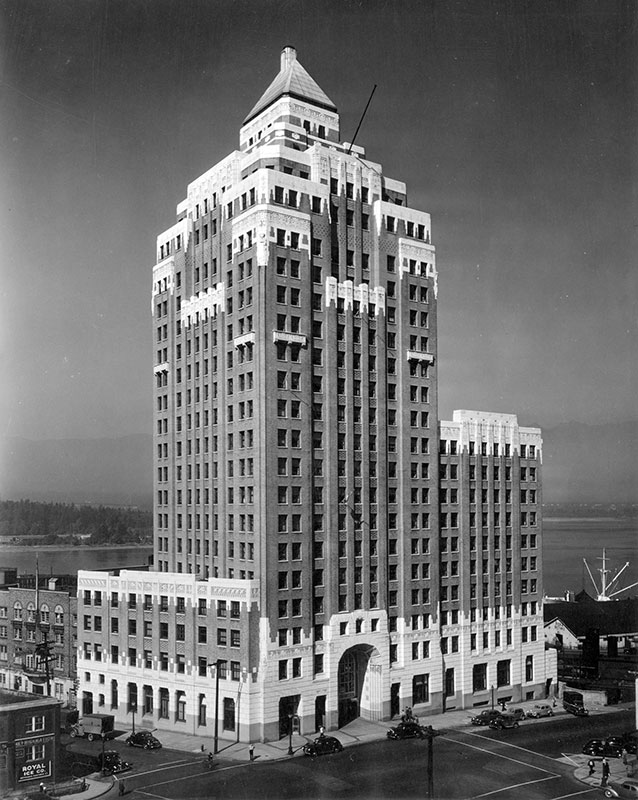 [By Lani Russwurm] The Marine Building at 355 Burrard Street is widely considered the best piece of architecture in the city and among the finest examples of Art Deco architecture anywhere. It's also the star of our Art Deco & Chocolate Tasting Tour, which takes place every Thursday and Saturday at 10 am. Its elegant design and over-the-top marine-themed ornamentation make it a completely unique and gorgeous work of public art.
The Marine Building replaced an old mansion from the days when this area was known as "Blueblood Alley," where rich folk settled before the West End and Shaughnessy Heights were developed. Construction began on 13 March 1929 and the building opened on 8 October 1930. It was supposed to cost $1.5 million, but ended up costing $2.3 million. The Great Depression also kicked in during construction, and the developer, a former rum runner, went bust. Desperate to fend off creditors, he offered it to the City for $1 million for a new city hall, but ended up selling it to the Guinness family (of beer fame) for a paltry $900,000 in 1933.
There's much more fascinating Marine Building history, but we'll save it for the tour. To tide you over, we've put together a gallery of archival images of the Marine Building for you to enjoy.
The Art Deco And Chocolate Tasting
Walking Tour
Discover the riveting stories of 1920s & 1930s Vancouver while you taste world-class chocolate.