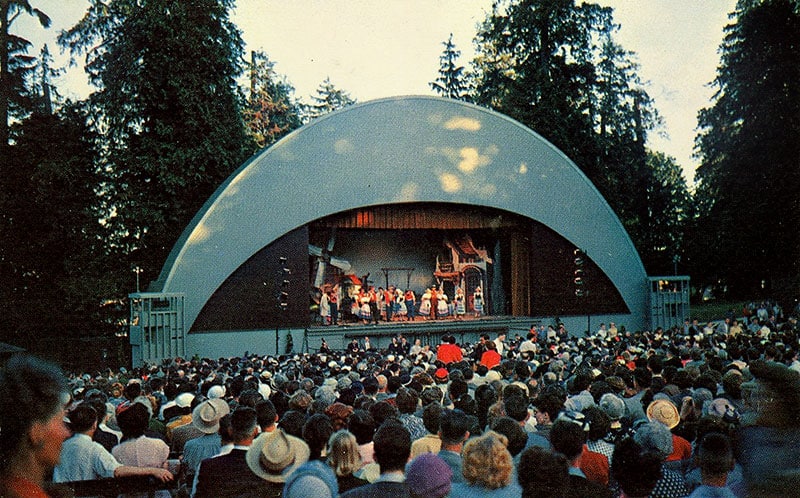 An Illustrated History of Malkin Bowl
Malkin Bowl in Stanley Park is Vancouver's premiere outdoor performance venue. Today it's mainly used for Theatre Under The Stars (TUTS) musical theatre productions and the Concerts in the Park series produced by Live Nation. Bands that have graced the outdoor stage include the Tragically Hip, Blue Rodeo, Elvis Costello, the New Pornographers, the Flaming Lips, and a Tribe Called Red.
TUTS has been there since 1940 and has performed too many popular musicals to list here. In 2017 they presented Mary Poppins, starring Forbidden Vancouver alumni Ranae Miller as Mary herself!
Malkin Bowl goes back to the Great Depression, when Vancouver Symphony Orchestra conductor Allard de Ridder persuaded former Vancouver mayor and wholesale grocery magnate William Malkin to finance an outdoor band shell for the city's orchestra. Malkin agreed, and the result was the Marion Malkin Memorial Bowl, named in honour of his late wife. It opened on 8 July 1934 with a free VSO concert that attracted 15,000 people.
Originally conceived as a miniature version of the Hollywood Bowl, it has gone through some serious changes over the decades, including a major reno in 1952. A fire nearly destroyed it in 1982, but the bowl was quickly repaired and TUTS was able to continue calling it home.
In response to rumours that TUTS wanted to replace the aging Malkin Bowl with a more modern facility, Heritage Vancouver placed the venue on its 2004 and 2006 "watch lists" of endangered Vancouver heritage structures.
TUTS manager James Cronk said that replacing it has "never been a mandate of ours whatsoever," and instead of demolition, the venue received a major upgrade of nearly $700,000 for general upgrades, improved security, and winterization so that it can now be used year-round as a rehearsal space.
For more Stanley Park history, come on our Dark Secrets of Stanley Park Tour.
Cover photo: Postcard of Theatre Under the Stars at Malkin Bowl, ca. 1954, via Rob on Flickr.